Sun Quest Development, Inc. ::

Investment Opportunities
---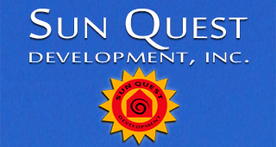 Sun Quest Development, Inc.
offers investment opportunities to local and national investors. A variety of investment opportunity types are available (which may include land deals, commercial and residential construction projects, "property acquisition, renovate & sell" and more). Each project will become an LLC and separate from all other projects.
Joining Sun Quest Development as an investment partner is an important financial decision for all parties involved. We at Sun Quest Development will perform our due diligence on the proposed projects local real estate market with assistance from our sister company (Sun Quest Real Estate Services, Inc.). We feel this gives all parties involved the best chance for Return on Investment "ROI" for your money.
While Sun Quest is always working on our own investment projects, we are always open to the idea of an investor submitting their own investment project to us for review.
Please feel free to join our investor group by submitting your information to us on the investor fillable form. We will contact you in a timely manner to discuss any present or future investment projects. Be assured that your information will be kept on file, private and not shared with others.
---